It is necessary to maintain the product freshness and composite integrity at the user end so as to utilize the same by customer & feel good about the product in hand. Induction cap sealing is basically a non-contact sealing process, which comprises of bonding of foil or disk to seal the opening of any container. This perfect sealing preserves as well as prevent the inside material to spill while handling & utilizing at any opening event. This sealing assures the extended shelf life, reduces the chances of pilferage of product inside which ensures the ultimate customer satisfaction about the end product in hand.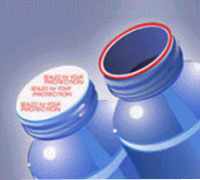 ×
Induction cap sealing machines manufactured by Eltech Engineers can be used to handle liquid or any solid-state products such as cold drinks, foods like pop corn / chocolates / biscuits & cookies, ice creams, fruit juice, rice cakes & pastry etc; various chemicals, tablets / drugs & multiple highly flammable products like diesel or petrol, packaging of electrical & electronics goods etc. Induction cap sealing assures the user about the maximum reliability of the product and also restrict the product to get in contact with oxygen to prevent it from any fermentation or deterioration too.
The basic operating principle of such high-class induction cap sealer comprises of the cap, which passes through a controlled electromagnetic field generated by an induction cap sealing machine. This strong electromagnetic field generates the huge heat along the whole periphery of the cap which further gets sticks around the neck of containers like bottles or any vessels.
This non-contact heating process hermetically seals containers with a closure that includes the sealable foil laminates inside material safely. These induction cap sealer machines almost seal any size of container & its size can be customized as per user requirements of packaging needs. Definitely, there is a limit to the size of the container. The inner seal material may consist of a layer of raw pulpboard, a thick layer of wax, thin aluminum foils, thin layer of polymer material, G. I. sheets, special carbonate sealing plates, etc. The use of inner seal material for closed sealing depends upon the type of material to be packed and handle. Sometimes single layer or multi-layer inner seal material may be used as per requirements.